En Marzo del 2019 viajamos con un grupo de 10 estudiantes de Columbia Urban Planning a Santa Olga, en el contexto del proyecto "An Examination of Disaster Management and Recovery in Post-Disaster Chile", financiado con el Columbia University President's Global Innovation Fund. Este es el reporte que hizo el Columbia Global Center.
Students from Columbia GSAPP's Urban Planning Visit Areas hit by Disasters
March 27, 2019
Re-blogged from Columbia Global Center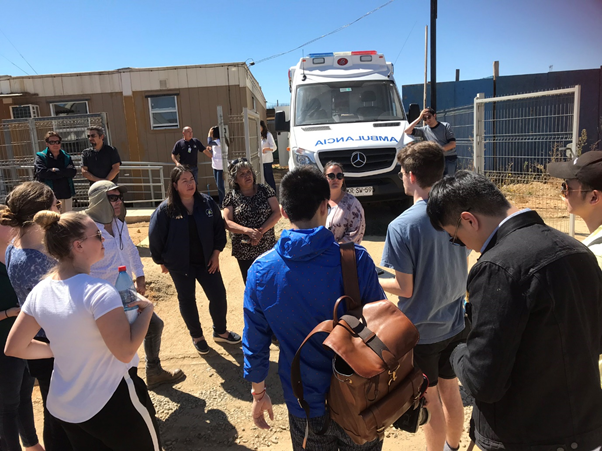 During the week of March 11-15, a group of ten students from the Columbia Graduate School of Architecture, Planning, and Preservation (GSAPP), joined by Associate Professor Malo Hutson and recent Urban Planning graduate and new Associate María Garcés , embarked on an educational journey to Chile. The objective of the trip was to gather relevant information about Chile's successes and failures experienced while managing disasters and recovery processes, particularly those associated with the 2017 wildfires that hit the country's central regions.
This visit was part of the PGIF project: An Examination of Disaster Management and Recovery in Post-Disaster Chile that follows an extremely successful seminar held in Santiago last November. This initiative explores the Chilean experience responding to disasters and recovery to learn about applicable strategies and lessons to inform other countries and regions worldwide.
The students visited the Columbia Global Center in Santiago and were greeted by Karen Poniachik, its Director, who gave welcoming remarks as well as an overview of Chile's economic and political history since the 1980's. The students then had the opportunity to attend the book launch for "La Tormenta de Fuego y la Nueva Santa Olga", written by Sergio Galilea, former Under-Secretary at the Ministry of Public Works and current professor at Universidad de Chile's Instituto Nacional de Asuntos Públicos. This event marked the beginning of a series of meetings and interviews with Chilean experts and organizations from all sectors involved in recent post-disaster reconstruction processes.
Following this event, the group met Patricio Mora, Founder and Director of Fundación Proyecta Memoria, an NGO that dedicates to commemorate disasters through symbolic interventions in public space using rubble from those events. Then, the group learned about Desafío Levantemos Chile, an NGO that has experience with post-disaster reconstruction and that in the case of Santa Olga rebuilt several housing units as well as the School with above average standards, improving the pre-existing conditions. Annette Alemán, Director for Culture and Sports, spoke about the different projects in which they are involved in and about how the NGO works alongside the private and public sectors. The students also visited the National Emergency Offices (ONEMI), where they met with Cristobal Mena, the National Deputy Director and were able to tour the Crisis Office and Control Room and learn about the emergency protocols that are in place in Chile.
Later that week, the group was greeted by Luis Campos Medina, researcher at Universidad de Chile's Instituto de la Vivienda, and Ricardo Tapia, architect and researcher at CITRID (Programa de Reducción de Riesgos y Desastres), who gave a detailed overview about the trauma aspects related to the Valparaiso fires in 2014 and the following reconstruction process. Students also visited the Ministry of Housing and Urban Development (MINVU) Offices in Santiago where they met with Bernardita Paul, National Manager for Reconstruction, where they learned about the ongoing reconstruction processes in the country, as well as preventive infrastructure that is being built in several locations.
Before travelling to the southern city of Talca, the students participated in a work session led by Magdalena Gil, PhD in Sociology from Columbia University, and Professor María Garcés, in which they de-briefed about the previous meetings and prepared for the following days.
Once in Talca, they met representatives from the Housing Ministry (MINVU) in the Maule Region, and were able to learn first-hand about the Santa Olga fires and reconstruction process from Daniela Soto, former Director of the Urban Development Division at MINVU, and Jorge Jimenez from the SERVIU MINVU.
The visit finalized with a day trip to Santa Olga, where the group participated in field observations as well as meeting with neighborhood leaders who shared their experiences during and after the 2017 wildfires.
The students will continue their work in New York, advised by Malo Hutson and María Garcés, and will present their findings and recommendations in May.
Santa Olga en Reconstrucción: update
En Julio 2019 fuimos con dos estudiantes del Columbia Urban Planning a Santa Olga, en el contexto del proyecto "An Examination of Disaster Management and Recovery in Post-Disaster Chile". Pudimos dejar registro de los avances del proceso de reconstrucción. Incluido el traslado de nuestro querido centro comunitario resiliente. En el viaje de marzo todavía colgaba sobre la calle ensanchada por Minvu (foto izquierda), pero esta vez lo encontramos (intacto!) al costado de un camino cercano (foto derecha).